PPC Management Pricing – How Should You Pay Agencies in 2023?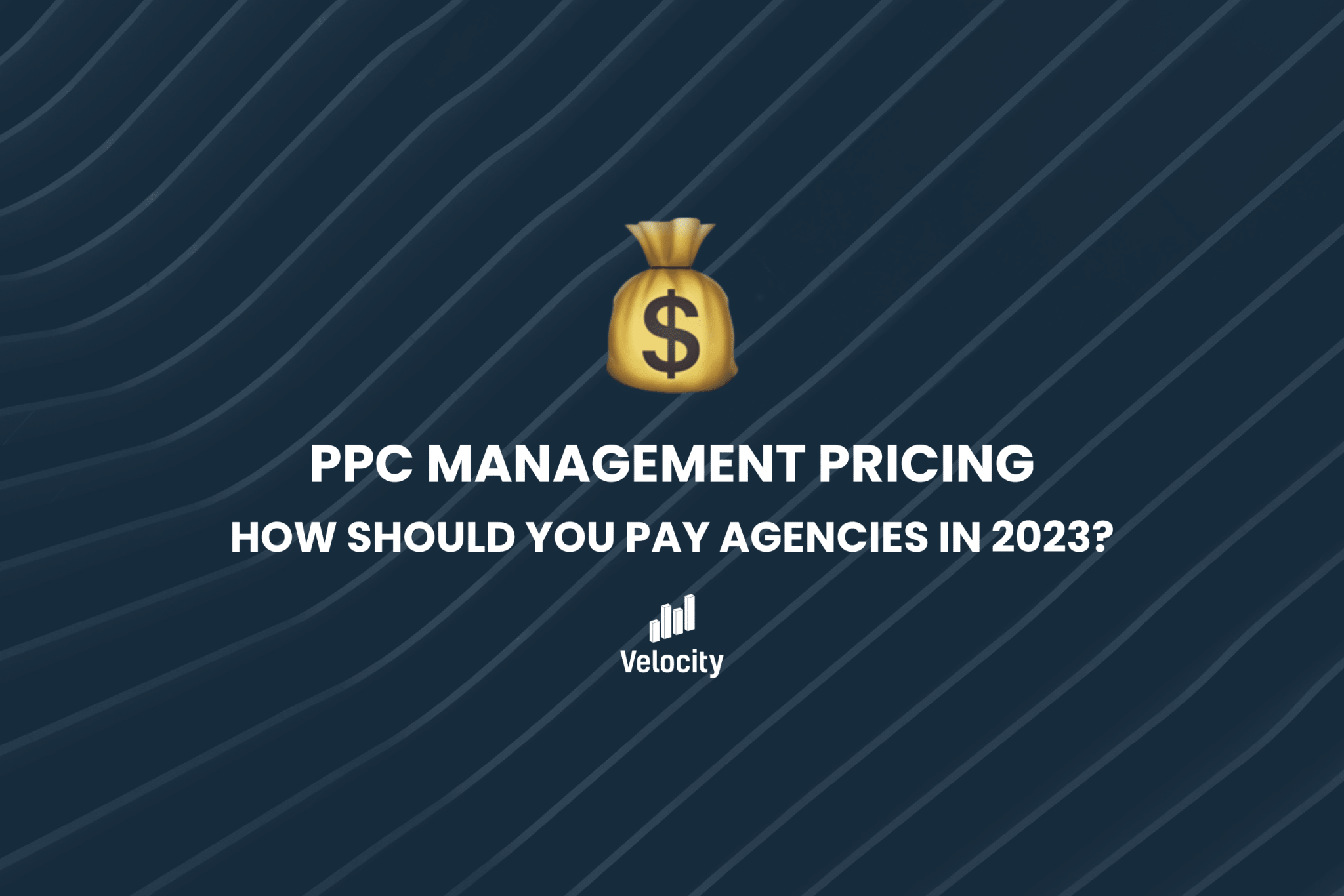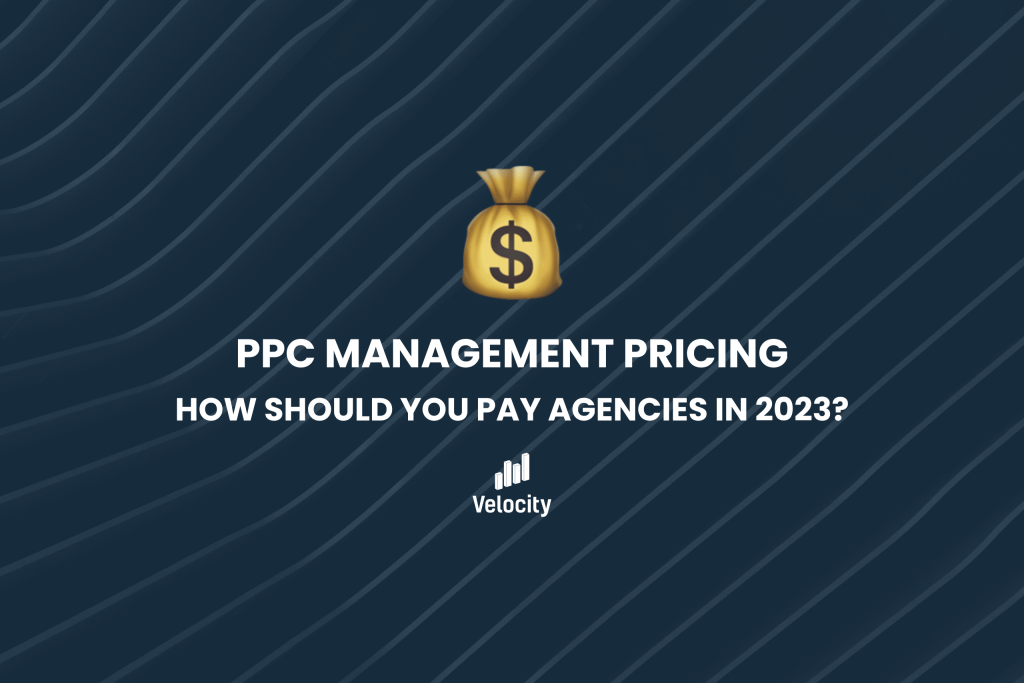 Are you considering hiring a pay-per-click (PPC) advertising agency, but uncertain about the cost? PPC management pricing can be a bit confusing, and at times even overwhelming. Different agencies use different models, and it may not be easy to make an apples to apples comparison of fees.
PPC marketing is an incredibly effective way to generate leads and new sales. When used correctly, it can produce great returns on your investment. But if you're unfamiliar with PPC management fees and pricing structures, it can be hard to determine if you're getting the right bang for your buck.
In this article, we'll explore PPC management pricing, and how agency fees work, so you can make an informed decision about whether or not to invest in hiring an agency or freelancer to manage your PPC account.
PPC management pricing models: 6 of the most popular
Ok so you've decided to hire some external help to run your PPC campaigns, once you've spoken to a few vendors and gotten some proposals, you'll begin to notice something – a lot of the vendors will have different pricing structures, and the scope of work from different teams can vary drastically depending on what service package you choose, and which types of ads you wish to run.
We break down 6 of the most popular agency pricing models below:
1. Percentage of Ad Spend
The percentage of ad spend model is one of the most popular pricing models used by PPC agencies. It is a model where the agency charges a percentage of the overall cost of your advertising campaigns.
This allows the agency to be directly incentivized to ensure that your ads are performing well, as they will receive a cut from the total amount paid to run those ads, and as ads become more effective, their clients will generally want to spend more, this makes for a good incentive for agencies to build high-performing campaigns.
Typically, an agency will charge between 10-20% of monthly ad spend, depending on their client's budget. The actual percentage figure is usually dependent on the size of client budgets, with agencies generally charging a lower percent for clients spending more on ad media.
When is percentage of ad spend pricing a good idea?
This type of pricing model works best for businesses and organizations with slightly larger budgets that are relatively consistent month-on-month, and with complex ongoing campaigns.
By paying a percentage of the total ad spend, the PPC management company will have an incentive to maximize performance and ensure that every dollar is being spent wisely.
When does percentage of ad spend pricing not work?
There are some cases when this pricing model may not work. For example, if the budget is variable and the campaigns are short-lived with a limited time frame, then percentage of ad spend pricing might not make sense.
Also for smaller budgets, marketing agencies might not be able to charge enough to cover their margins if delivering work on those campaigns costs more than the fee they charge.
2. Base retainer, plus a percentage of ad spend
This is a good pricing model for search ads. With a base retainer and percentage of ad spend, agencies charge a flat rate 'base' retainer, while charging an additional percentage of monthly ad spend (again, this is typically 10-20%).
A base retainer plus a percentage of ad spend model is an attractive pricing model for PPC management. This model allows businesses to have the benefit of professional PPC management while also having control over their budget and costs.
The base retainer fee covers the cost of any resources required to manage the PPC campaigns at a static monthly rate. This work can include competitor research, keyword selection, and ongoing optimization tasks, while the percentage of ad spend allows agencies to be fairly compensated if clients wish to scale their account budgets, which creates greater complexity as strategies will change at certain spend thresholds.
When is base retainer, plus a percentage of ad spend a good idea?
The base retainer plus a percentage of ad spend model works best when the agency and the client are in agreement on how much time and effort needs to be allocated for the management of campaigns. This pricing structure works well for budgets of most sizes, as it allows agencies to maintain margins even if clients scale search marketing budgets up and down.
When does base retainer, plus a percentage of ad spend not work?
Base fees plus a percentage of ad spend billing can be an attractive option for companies that have limited budgets, since the cost of the service is directly tied to the amount spent on ads.
However, this doesn't mean that the client is getting a "better deal", as agencies will balance base fees and percentage of spend to make sure that their fees are fair for clients, regardless of budget.
3. Flat rate fees
Flat rate retainer models for PPC management involve a fixed monthly price for a set scope of work. Also referred to as the retainer model, this type of pricing model can be beneficial for both the advertiser and the agency, as it allows for budget predictability on both sides.
For the advertiser, flat rate retainers provide a consistent cost that won't vary from month to month. This can make for easier forecasting, and if additional scope is required, this can often be added-on to the agencies scope of work, or if ad-hoc, tacked on for a additional once-off fees. For the agency, better income predictability and forecasting is one of the benefits of this fee structure.
When are flat rate ppc management fees a good idea?
Honestly, most of the time a flat rate structure works very, very well. And it's our preferred pricing model here at Velocity due to it's simplicity.
In certain cases where advertisers are spending millions dollar budgets the inherent complexity of the account may justify a percentage of spend fee, but if the agency knows how to scope work effectively (and prevent scope creep), flat rate usually results in happy clients and agencies regardless of budgets.
When do flat rate ppc management fees not work?
Firstly, if a business has varied needs or goals for their campaigns, such as different objectives for each campaign or specific audience targeting requirements, the flat rate fee may not cover all of the work required to achieve your business goals. That being said, any good agency should be able to understand what you need, and to bake those fees into their flat-rate fee.
If your scope of work is going to vary significantly month-on-month, flat rate fees aren't a good idea. If you end up re-scoping the project every month, and incurring add-on or additional fees as a result, this will be an ineffective way to price your services.
4. Hourly rate
Hourly rate projects are a popular way for PPC advertising agencies to work with clients on their ad campaigns. With this type of agreement, the agency charges its clients an hourly rate for the time and effort invested in managing their campaigns, then invoices these billable hours each month.
The hourly rate charged by the agency depends on a number of factors, such as the size and complexity of the campaign, the monthly budget, and the estimated time needed to manage the account.
The length of time needed to manage a PPC campaign can vary depending on the complexity of the strategies used, and the budget allocated. As we've mentioned before, PPC campaigns need to be monitored and managed on an ongoing basis in order to get the best results.
For a small business with limited resources, it may only take a few hours per week to optimize their campaigns, while a large enterprise company might need multiple full-time strategists working on the account.
When is hourly rate billing a good idea?
With hourly rate billing, you gain the advantage of exact costs per hour and project so that you have control over your budget. You get more transparency too – you can easily track time spent by your agency and get a better sense of where they're spending their hours. Plus, since hourly rate implies that agencies need to use their time wisely, you'll also benefit as they work hard to maximize every second to achieve the best possible results.
When does an hourly rate fee structure not work?
An hourly rate fee structure for PPC advertising management does not work well when agencies are unable to accurately determine the estimated time and cost of each project. It becomes difficult to set a fixed fee and therefore, it's also difficult to estimate and control costs, which can lead to misaligned expectations for all parties.
Additionally, if a client is unconvinced with the results delivered by the agency but still has to pay for services rendered during that month, trust between both parties can quickly weaken with an hourly pricing model.
5. Performance-based fees
Performance-based fee arrangements for PPC marketing agencies are calculated based on the amount of success they have in driving tangible results.
Performance-based fees for Google Ads agencies work differently depending on the agency chosen. Typically, a percentage-based fee based off of the campaign's return on investment (ROI) is offered by many Google Ads agencies. Performance-based fees can include campaigns with a cost per acquisition model (CPA) for lead generation, or return on ad spend model (ROAS) for eCommerce.
When are performance-based fees a good idea?
Performance-based fees for pay-per-click management agencies are an attractive offering for any business looking to control expenses while increasing ROI on their digital marketing campaigns.
This type of fee structure allows businesses to only pay for measurable and successful results, rewarding agencies that help their clients reach their KPIs without the need for upfront costs. By basing fees only on performance, PPC management agencies are incentivized to hit key performance indicators and maximize returns for their clients.
When do performance-based fees not work?
Performance-based fees for PPC management services can have complicated parameters which make this fee structure unworkable in certain scenarios. Generally, performance-based fees only work with clients that have an established PPC history and an appropriate level of spending. This is because it places all of the risk on the agency and results are not always guaranteed.
Additionally, if a client's budget is too small, this type of payment method does not make sense since any fees earned wouldn't be worth their time and effort for setting up campaigns and managing them. Ultimately, performance-based fees should be considered carefully as to whether or not they're suitable for both the client and agency involved in the transaction.
6. Pay-per-lead
Pay-per-lead (commonly referred to as PPL) pricing models are a type of PPC ad management model in which the advertiser pays for each qualified lead that is generated through their PPC campaign. This pricing model can be beneficial for highly competitive industries like law, construction and local services since it allows businesses to gain leads while controlling their costs.
One common tactic to watch out for with pay per lead agencies is that they often use lead routing software to send one lead to multiple clients, this results in lower conversion rates, and often makes it harder for clients to connect with leads.
When are pay-per-lead ppc management fees a good idea?
Pay-per-lead management fees can be a great idea for both agencies and clients when the agency has well-developed strategies in place to drive effective traffic to the client's website.
When employed properly, pay per lead campaigns can drive high quantities of qualified leads that result in ROI above and beyond what the agency is charging for its services.
This structure can lower risk for the client and offers a more transparent outcome as far as overall cost versus delivered value. Ultimately, it allows agencies to prove their worth and incentivizes both parties to ensure that tactics are optimized to ensure maximum return on investment, both on the marketing and sales side of things.
When do pay-per-lead ppc management fees not work?
Pay-per-lead may not work for client and agency when the client's budget is limited, lead gen goals are too far reaching, or there isn't enough time to dedicate to an effective ad program, as sometimes paid search results can take time.
If a company cannot commit to a minimum budget or allocate enough time and resources to the campaign then the chances of success are slim, as pay-per-lead agencies need time to iterate on targeting based on lead quality feedback from their clients.
Additionally, if rock-solid lead tracking is not in place, it will be difficult to accurately measure success or set reasonable expectations of what can be achieved.
Clear expectations have to be set around what counts as a lead, as disputes around lead quality can lead to a deterioration in client/agency relationship.
Which PPC management pricing structure is right for your business?
The best PPC management pricing models for different types of businesses depend on the size, complexity and goals of each business.
For example, smaller businesses may benefit from flat rate monthly management fees, where a fixed price is paid for a set number of campaigns or agreed-upon scope of work.
On the other hand, larger firms may opt for more complex pricing models such as performance-based agreements along with a base retainer when advertising at scale.
Percentage of spend fees work well for most sizes of business, regardless of whether they have small or large budgets.
Should I pay a setup fee to my PPC provider?
Paying a setup fee to your PPC provider may be beneficial depending on your company's size and existing digital marketing practices.
A PPC setup fee usually covers the cost of research (including keyword and competitor/industry research), advertising account creation and campaign setup, creating display ads, conversion/event tracking setup and other initial tasks that incur a significant front-load of work for agencies.
Set up fees can also cover access to additional services such as landing page design and website development. The benefit of paying a setup fee is that it helps ensure that everything necessary for a comprehensive paid search program gets done within an agreed timeline and to establish certain standards that will pay dividends once your campaigns go live.
How long are most PPC management contracts?
PPC management contracts typically range anywhere from three months to one year in length, depending on the agreed upon terms. The typical timeframe is usually around six months.
This timeline provides enough time for the PPC teams to set up and optimize campaigns, analyze performance data, uncover insights, and make adjustments in order to maximize engagement and reach desired goals.
Agreeing to a long-term contract allows for greater optimizations over time as well as a more strategic approach due to the ability of PPC professionals to conduct split testing experiments over a longer window of time with more data.
However, sometimes being locked into a contract can be an issue. Low quality marketing agencies often attempt to lock clients into long-term contracts that leave business owners stuck.
At Velocity, we run on a no-contract model, with rolling monthly contracts to give our clients maximum flexibility, that being said – most clients become long term partners regardless, and we don't need to lock anyone into a contract to keep them!
Questions to ask when evaluating ppc management pricing
When evaluating the cost of PPC management with a marketing agency, it's important to ask questions such as what kind of services they offer and how much those services cost.
For example, will your campaigns include display ads and ad creative development? What about retargeting and advertising on other PPC channels like Bing?
You'll want to find out the exact scope of the services they provide; for example, do they include analytics and reporting or provide ongoing support? Also double-check when you will receive communications about campaign management, and what channels of communication you should expect to receive updates and reports.
Additionally, it is essential to understand any constraints that could limit you from getting the results you desire. Is there anything outside of the PPC manager's control that could hamper results? Are your sales processes and tools enough to ensure success, even if the leads start flowing?
Finally, inquire about different payment options such as prepaid packages and get an understanding of when and how they bill clients. If you'll be paying for billable hours, get a handle on what invoices will look like with your estimated monthly spend. Knowing these details ahead of time will help you make an informed decision before investing your money with a great paid search agency.
Conclusion
In conclusion, the type of PPC pricing model that's best for you is highly dependent upon your business – your monthly advertising budget, history of running search engine ads, and advertising goals will all factor into what pricing structure works best for you.
As a rule of thumb – flat rate pricing is both simple to manage/forecast, and works well for both advertiser and agency. Percentage of spend is a close second in our opinion, but is usually best for larger account budgets or when paired with a base retainer in addition.
Performance-based fees like share of revenue and pay-per-lead can work for some industries, but there are more risks incurred than with other pricing models.
Ultimately, understanding the pros and cons of each model will help advertisers decide which one is most suitable for their marketing goals.
---