Marketing for Roofing Companies: The Ultimate Guide for 2023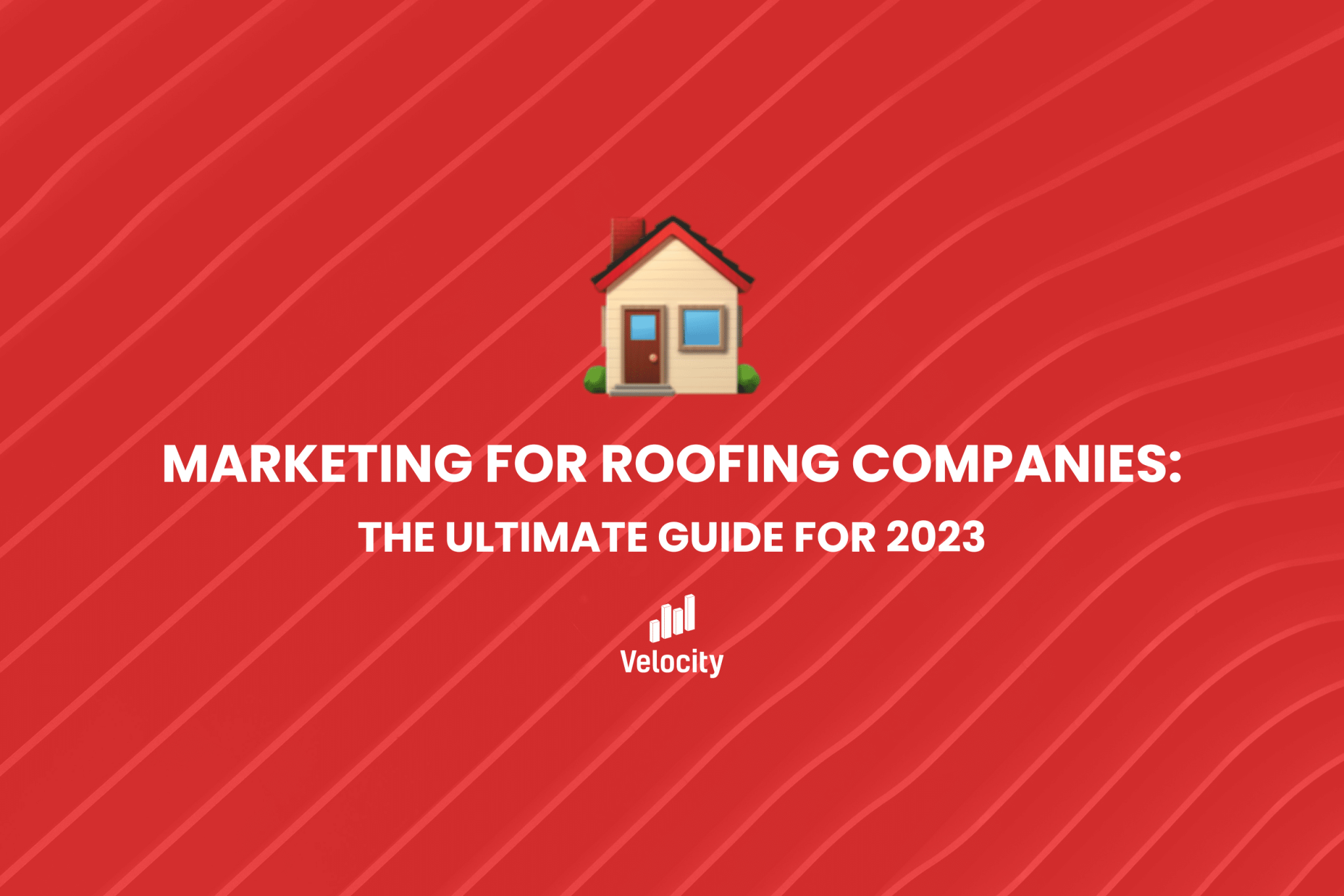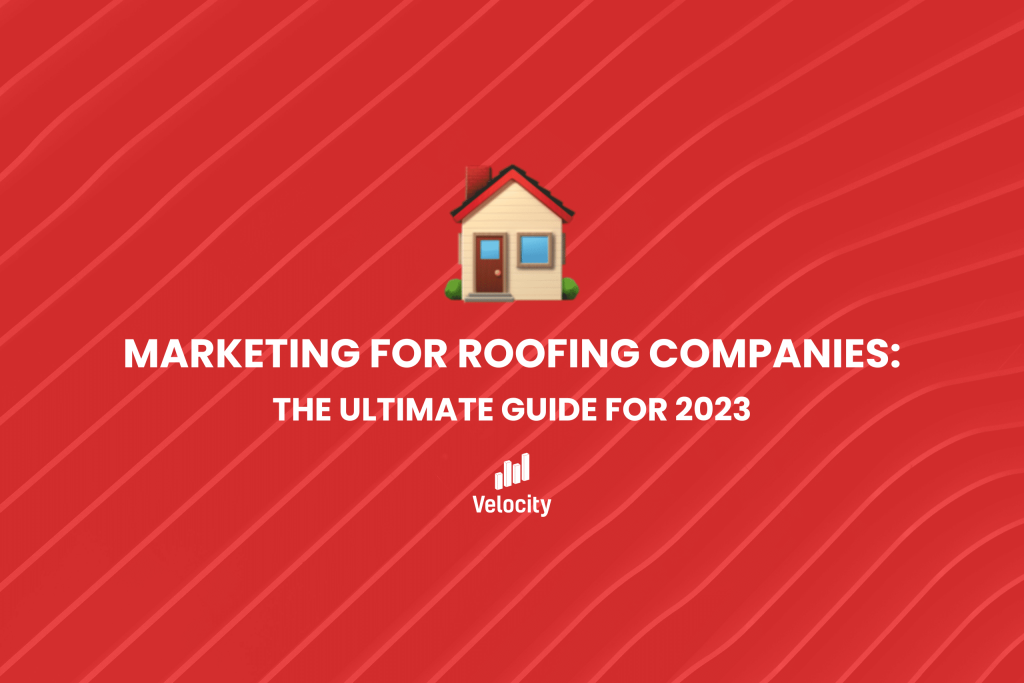 With the rise of extreme weather conditions and an ever-changing industry, marketing for roofing companies has become increasingly important to capture market share and differentiate your team.
For those in the roofing industry, having an effective marketing plan is key to staying competitive and growing your business.
In this article, we explore different strategies that can be used to successfully market a roofing company, from identifying target audiences and optimizing online presence, to generating leads and increasing brand awareness. The tips in this article apply to both residential and commercial roofers.
With the right approach, you can ensure your roofing company stands out in a highly competitive landscape. Here's our 7-step process to effectively market your business and reliably generate high-profit roofing jobs:
Step 1: Hone Your Messaging to Attract Potential Customers
No one goes out looking for a new roof just for fun. There's always a functional reason, whether that's a roof leak, a need for roof replacement due to damage or even emergency roof repair.
For that reason, most of your customer base will be looking for your service offerings during a particularly stressful time of their lives.
A home is most people's most prized possession – as such the best roofing firms engage potential customers with messaging that speaks to their emotions, in particular:
Alleviates their worries – especially during emergency situations
Builds an understanding of your process, so they know what to expect for timeline and pricing
Is backed by previous customer testimonials – which builds trust in your brand.
Aside from times of stress, potential customers should be aware that proper roofing systems can provide a variety of benefits, including improved energy efficiency and increased property value.
Not only do properly installed and maintained roofs help protect against the elements, but they also make homes and businesses more attractive. Better curb appeal increases property value. Roofing services can also help to reduce insurance costs by eliminating potential hazards.
This type of benefit-driven messaging can help accelerate the sales process and open the door for up-sells beyond a roof repair.
When searching for a qualified roofing service, homeowners consider the following, so make sure you have messaging for it that matches up to their expectations:
Company experience – what do you specialize in, and in what areas/regions?
Reputation – do you have glowing customer reviews?
Customer service record – do positive reviews mention how easy the roof replacement or repair process was?
Pricing structure – how does your company bill clients? Do you offer financing or discounts?
Customers do their research ahead of time with the interest of saving time, money and hassle in the long run, so double-check that your messaging is on point to attract the right folks.
Step 2: Identify Target Audience & Market
Identifying your target audience and market is an important step for any business, but especially so for roofing companies. Knowing who your customers are and where they are located is essential for creating effective marketing strategies.
Start by researching the demographics of your area to identify potential customers, what towns, cities or zip codes should you be focusing your efforts on?
Then, look into their buying habits and preferences to learn more about what services they are likely to need from a roofer.
Finally, use this information to refine your message and create tailored campaigns that reach the right people in the right place at the right time.
With this knowledge in hand, you'll be able to craft more effective campaigns that generate qualified leads and positive ROI from your marketing efforts.
Step 3: Build an Online Presence
One of the most important benefits of building an online presence for your roofing company is that it allows you to reach a much wider audience.
With a website, social media pages, and other digital marketing efforts, you can easily connect with potential customers who may not have heard about your business otherwise.
Furthermore, having an online presence gives you the opportunity to share information about your services and promote specials or discounts in real-time.
Additionally, having an online presence allows customers to access information about your company and submit project enquiries at any time.
Finally, when done correctly, an online presence can help boost your search engine rankings so that more people can find out about your business when using search engines like Google.
In short, building an online presence is essential for any roofing company looking to increase their visibility and attract more customers in 2023.
Step 4: Decide on the Right Marketing Channel to Reach Roofing Customers
Finding the right marketing channel to reach targeted customers can be a challenge for roofing companies. Fortunately, there are a variety of options available that can help you effectively connect with potential customers.
One popular method is using online advertising. By placing ads on relevant websites, social media platforms and search engines, you can target people who are likely to be interested in your services. This type of marketing allows you to reach people who may not otherwise know about your business and helps drive traffic to your website, sales teams or social media accounts.
Another useful form of marketing for roofers is email campaigns. Using an email list, you can send personalized messages to current and prospective customers, informing them of special offers, promotions, and other events related to your business. Email campaigns are also great for building relationships with customers and helping them stay up-to-date on what's happening with your company.
Finally, don't forget about traditional methods such as direct mail, print advertising and radio spots. These types of campaigns may cost more upfront but can still be effective if used wisely. For example, print ads placed in local newspapers or magazines are a great way to get the word out about your services in specific areas.
Overall, finding the right mix of marketing strategies is essential for any roofing company looking to acquire new customers and increase their bottom line.
What's the best option for your business? We dive into the best channels in Step 7 in this article.
Step 5: Optimize Your Online Presence & Reviews
In addition to having a website, optimizing your online presence with other platforms such as social media and review sites can help boost brand awareness.
These platforms are great for sharing updates about new projects and engaging with customers in real-time. Plus, encouraging customers to leave online reviews on these sites can be beneficial in building trust among potential customers who are looking for reliable roofing services.
A Google My Business profile is simple to setup and allows customers to easily review your services. This profile also allows you to rank higher on Google organically, and should be part of any roofing company's SEO strategy.
The better business bureau (BBB) accreditation is a great way to build trust with potential customers, registering with the BBB also puts you on a list of other trusted roofing companies, so you can be found for people searching in those categories.
We can't emphasize it enough, online reviews are crucial. And while a negative review won't tank your reputation, it's best to avoid them as research suggests that just one negative review can drive away two of every ten clients!
Step 6: Create a Website & Start Blogging
Creating a user-friendly website for your roofing company is an excellent way to stand out from the competition. Having a website allows potential customers to learn more about your services and read reviews from past clients.
You don't have to reinvent the wheel here – simple websites work best, focus your messaging on alleviating customer concerns and building trust with testimonials and social proof (refer to step 1 of this article for ideas on how to craft effective messaging).
Make sure that it's easy for potential customer to convert on your website. A conversion is a marketing term used for when a visitor performs a certain action. For roofing lead generation, this is usually when a lead submits a contact form or dials a contact number.
Once you have baseline conversion rates, you can use techniques such as split-testing to test out different landing page variants and figure out which design and copy elements drive additional leads.
Blog posts may seem trivial, but over time content creation compounds and can drive massive amounts of traffic from search engines and social media channels (we explore this more later in the article).
Plus, you can provide valuable content such as tips and advice related to roof repair or maintenance on your blog, which can help build trust with customers and establish your company as an industry expert.
Step 7: Choose The Best Channels to Market Your Roofing Business
Ok so now you know how to position your roofing company effectively, but what are some specific marketing channels that will help you reach your target market and get the leads flowing?
Read on to find the best ways to source roofing projects in 2023:
Search Engine Optimization
Search Engine Optimization (SEO) is a highly effective marketing tactic for roofing companies because it helps improve online visibility and reach potential customers who are actively searching for roofing services in your area.
By optimizing your website and content for search engines, you can increase your website's ranking on search engine results pages, making it easier for potential customers to find you when they are searching for roofing services.
With SEO, you can target specific keywords and phrases that are relevant to your business, such as "roof repair" or "roof replacement," and create content that addresses the questions and concerns of your target audience.
By doing so, you can attract more qualified leads to your website and increase your chances of converting them into paying customers.
Content creation is one part of the SEO puzzle, it's also important to build high quality links to your content, which acts as a signal for Google to rank your pages higher.
Investing in SEO takes time to see results. Typically most SEO strategies don't start to show results for at least 6 months, so some patience is required. However, SEO can help roofing companies establish a strong online presence, increase brand awareness, and drive more traffic and leads to their website.
Email Marketing
Email marketing is an effective channel for roofing companies because it allows you to stay in touch with current and potential customers and keep them informed about your services and promotions. Remember, building awareness is important because you'll be the first roofer that comes to mind when they have a potential issue.
With email marketing, you can create personalized and targeted messages that resonate with your audience and provide value to them. You can use email marketing to share educational content about roofing, offer promotions and discounts, or even announce new service offerings or product types.
Another effective tactic is using marketing automation tools like ActiveCampaign or Hubspot – these allow you to send triggered emails when people perform certain actions, such as visiting your website, or viewing certain pages on your site.
Additionally, email marketing is a cost-effective way to reach a large audience and track the performance of your campaigns, allowing you to continuously improve and optimize your marketing efforts.
Overall, email marketing is a powerful tool for roofing companies to engage with their audience, increase brand loyalty, and drive more business.
Content Marketing
So you have a killer website, now it's time to get started on your blog. A robust content strategy takes time to see results, but it will pay dividends once prospects start discovering your articles. Don't underestimate the value of educational content – your blog posts aren't just there to sell, they help potential customers understand how roofing works, so they can make a more informed decision.
Content marketing is a highly effective marketing tactic for roofing companies because it allows you to provide valuable information and education to your audience while showcasing your expertise and building trust.
By creating high-quality content that addresses common roofing questions and concerns, you can establish yourself as a thought leader in the industry and attract potential customers who are seeking solutions to their roofing problems. Remember that content marketing isn't just blog posts. Try creating white papers, infographics, or even calculators to help inform your audience and convert them into leads.
One of the benefits of content marketing is that good content compounds over time, meaning that it can continue to generate leads and drive traffic to your website long after it's been published. In addition, content marketing can also benefit your SEO efforts by providing search engines with valuable, relevant content to index and rank on search engine results pages.
By regularly producing and promoting high-quality content, you can improve your website's search engine rankings and attract more organic traffic to your website. Overall, content marketing is a powerful tool for roofing companies to increase brand awareness, establish credibility, and generate more leads and conversions.
Don't know where to start? Here are some sure-fire blog topics that your audience will find useful:
"The Ultimate Guide to Roof Repair: Everything You Need to Know"
"5 Signs Your Roof Needs Replacement and What to Do About It"
"The Pros and Cons of Different Roofing Materials: Which One Is Right for You?"
"How to Choose the Right Roofing Contractor: A Step-by-Step Guide"
"The Importance of Regular Roof Maintenance: Tips and Best Practices"
Social Media Marketing
Social media is a great tool for roofers because it allows you to engage with your audience, promote your services, and build brand awareness. Facebook and Instagram work best for roofing companies, so make sure you have profiles on both of these platforms. Twitter and LinkedIn can work, but are better platforms for B2B and professional services organizations.
With social media, you can showcase your expertise, share educational content, and connect with potential customers who are interested in your services.
Additionally, social media is a powerful tool for building social proof by highlighting customer reviews and testimonials. Remember, good reviews are one of the most powerful marketing tools out there for local services companies! By sharing positive feedback from satisfied customers, you can establish trust and credibility with your audience and increase the likelihood of attracting new business.
Facebook ads are also effective for both lead generation and building your brand – they allow you to target specific demographics and interests, ensuring that your marketing efforts are reaching the right audience, even if they aren't following your page or interacting with your business.
Overall, social media is a cost-effective way for roofing companies to increase their online presence, build brand awareness, and generate more leads and conversions.
Stuck on what to post to your social channels? Here's a few tried-and-tested ideas that homeowners love:
Customer testimonials: Share a quote or photo from a satisfied customer along with a brief testimonial about the quality of your work and the excellent customer service they received.
Before and after photos: Showcase the transformation of a recent roofing project by sharing side-by-side photos of the "before" and "after" of the project. This type of post is not only visually engaging but can also demonstrate your expertise and the quality of your work.
Educational content: Share tips and advice on how to maintain a roof, choose the right roofing materials, or prepare a roof for seasonal changes. This type of content can help establish your business as an authority in the industry and provide value to your followers.
Pay Per Click (PPC) / Search Advertising
PPC (Pay-Per-Click) advertising is a highly effective marketing tactic for roofing companies because it allows them to target potential customers who are in-market and actively searching for roofing services.
With PPC ads, roofing companies can bid on specific keywords that potential customers are using to search for roofing services, ensuring that their ads are being shown to people who are already interested in their services.
For example, if a roofing company wants to show their ad to users who are searching for "roof repair services", they can bid on that specific keyword. When a user searches for "roof repair services", Google's algorithm will trigger the ads from advertisers who have bid on that keyword. The ads will then be displayed at the top or bottom of the search results page, providing the user with relevant and targeted ads based on their search query.
Unlike SEO – Google Ads get immediate results, you don't have to wait months, and can test this channel to get high quality roofing leads flowing in a matter of days.
Google Ads is the most popular PPC advertising platform, and dominates the search ad market, with over 90% of all search ad clicks coming from Google Ads.
Search advertising is one of the most targeted forms of advertising available, and is incredibly effective for roofing firms.
Here are some of the most important activities that go into crafting an effective search advertising campaign:
Keyword Research: identifying the most relevant and targeted keywords that potential customers are using to search for your products or services.
Ad Copy: creating compelling, informative and relevant ads that resonate with your target audience and showcase your unique value propositions.
Ad Extensions: utilizing ad extensions such as call extensions, sitelink extensions, and location extensions to provide additional information and increase ad real estate.
Landing Pages: creating targeted and optimized landing pages that align with your ad copy and provide a seamless user experience for visitors.
Bidding Strategy: choosing the right bidding strategy to optimize your ad performance and maximize your return on investment (ROI).
Targeting: leveraging targeting options such as location targeting, device targeting, and audience targeting to ensure that your ads are being shown to the right audience at the right time.
Ad Testing: regularly testing different ad variations, landing pages, and targeting options to improve your ad performance and increase your conversion rates.
Conversion Tracking: setting up conversion tracking to measure the success of your ad campaigns and identify opportunities for improvement.
Campaign Optimization: regularly monitoring and optimizing your campaigns to ensure that they are achieving your goals and delivering a positive ROI.
Does it all sound a bit confusing? Get in touch with our team, we specialize in helping roofing companies succeed with high-performing PPC campaigns.
Print Advertising
Print advertising can be a valuable marketing tactic for roofing companies because it allows them to reach potential customers who may not be active online or who prefer traditional forms of advertising.
With print advertising, roofing companies can reach a targeted audience through local newspapers or magazines. This can be especially effective for reaching homeowners in a specific geographic area.
Additionally, print ads can be highly engaging and impactful, allowing roofing companies to showcase their unique selling propositions through eye-catching graphics, photos, and headlines.
With a well-designed print ad, roofing companies can generate interest, build brand awareness, and drive more leads and conversions. While digital advertising may dominate the marketing landscape, print advertising remains a viable and effective tactic for roofing companies looking to reach a wider audience that might not be active internet or smart phone users.
Door Knocking
While it may seem old-fashioned, door knocking can still be a highly effective marketing tactic for roofing companies. Door knocking involves sending your team out into the field to knock on doors and introduce your company and services to potential customers.
This approach can be especially effective when your team has completed a roofing job in the same neighbourhood. By knocking on doors, you can generate leads and connect with potential customers who may not be actively searching for roofing services.
Additionally, door knocking allows you to establish a personal connection with potential customers, which can be highly valuable for building trust and credibility. While it can be time-consuming, door knocking can be a valuable addition to your marketing strategy, allowing you to reach a wider audience and generate more leads for your roofing business.
Just getting started with door knocking? Here are some top tips:
Always be respectful and courteous when approaching potential customers
Dress professionally and wear branded clothing to establish credibility
Come prepared with a brief, rehearsed pitch that highlights your unique selling propositions and services
Have business cards or flyers on hand to leave with potential customers who may not be interested at the time of the visit, but may want to contact you in the future
Respect "no soliciting" signs and do not knock on those doors
Keep track of the houses you've visited in a map or list to avoid duplicating efforts
Follow up with potential leads promptly and professionally to ensure you stay top-of-mind and establish a relationship with potential customers.
Direct Mail
With direct mail, roofing companies can send postcards, flyers, or other promotional materials directly to potential customers' mailboxes.
This approach can be highly targeted based on factors such as geography, demographics, or purchasing behavior.
Direct mail can be especially effective when combined with other marketing tactics, such as door knocking or digital advertising, to reinforce your messaging and build brand awareness.
Additionally, direct mail can be highly customizable, allowing roofing companies to showcase their unique selling propositions and services in a way that resonates with potential customers.
RadiusMail is a powerful new direct mail platform we recommend. Built specifically for roofers it allows you to turn your customer's neighbors into leads with hyper-targeted direct mail campaigns.
Here are some direct mail best practices to keep in mind:
Develop a simple messaging format that showcases your unique selling propositions and services
Include a call-to-action that encourages potential customers to contact you for more information or to schedule a consultation
Use tracking codes or unique phone numbers to measure the effectiveness of your direct mail campaign and adjust your strategy as needed
Offer a special promotion or incentive to encourage potential customers to take action
Always test out a few different direct mail formats. These types of direct mail formats work best for roofing companies:
Postcards: eye-catching and cost-effective way to showcase your message and services
Door hangers: highly targeted and can be customized to specific neighborhoods or homes
Flyers/brochures: provide detailed information about your services and can be used for more comprehensive marketing efforts
Letters with a personal touch: can establish a more personal connection with potential customers, especially if you include a handwritten note or personalized message
Magnets or other promotional items: can keep your roofing company top-of-mind and serve as a reminder for potential customers to contact you in the future.
Definition: What are Roofing Leads?
Roofing leads refer to potential customers who have expressed interest in hiring a roofing company for their services.
These leads can be generated through various marketing and advertising methods, such as online advertising, direct mail campaigns, or referrals from existing customers.
As a roofing company, generating high-quality leads is crucial for growing your business and increasing revenue.
By effectively targeting your marketing efforts towards your ideal customer base, you can attract more qualified leads and increase the likelihood of converting them into paying customers.
Investing in lead generation strategies can help you stay competitive in the roofing industry and build a steady stream of new business opportunities.
Conclusion
In conclusion, effectively marketing your roofing company can be challenging. Especially for business owners that don't have experience running marketing campaigns or developing effective messaging. It's an extremely competitive industry, so you need to use smart positioning to get ahead of competitors.
By following the simple 7-step process outlined in this article, you can successfully market your roofing company. Start by honing your messaging to attract potential customers, identify your target audience and market, build an online presence, and then decide on the right marketing channels to reach new customers.
Generating high-ticket leads won't happen in a day, but by systemically following the process we've outlined above, you'll start to reliably generate leads that are ready to buy, and stand out in this highly competitive landscape.
With effective marketing strategies in place, you can increase your visibility, generate more qualified leads, and ultimately grow your business.
Interested in how to use PPC/search ads to market your roofing business? Get in touch for a free consultation with our expert PPC team today.
---